The Outbrick is Spreading…
…spreading to other comics, at least.
A Zombie Outbrick guest-strip is set to appear this Wednesday in The Misadventures of the Trailer Park Trio.(Don't worry, if you think that's a mouthful, you can just refer to it as TMAOTTPT. ;) )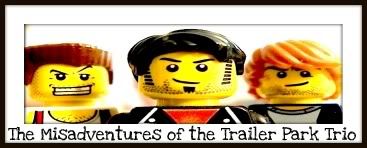 TMAOTTPT is a brick comic about three guys (the titular "Trio,") who live in a trailer park, and have all sorts of misadventures. Spike, the "ladies' man," red-headed Bear, and chicken-loving Jed have their first misadventure at a Harry Potter-themed convention. More recently, what seems to be time-travel to the middle ages has become involved…
This comic is full of shenanigans, hilarity, awkward situations, plot twists, and pure fun. If this sounds to you like it might not be the type of comic you like to read, perhaps you're thinking that TMAOTTPT is one of those "silly" (meaning incoherent, random, and seemingly pointless) comics. Let me tell you, it isn't. TMAOTTPT is well-written, well-photographed, and all-around well-executed, and is loaded with interesting, loveable, and sometimes laughable characters.
I highly recommend it to all brick comic readers.
If nothing else, at least check out the Zombie Outbrick guest strip featured on the site this Wednesday!
-blockcomics 4th Oct 2011, 10:19 PM